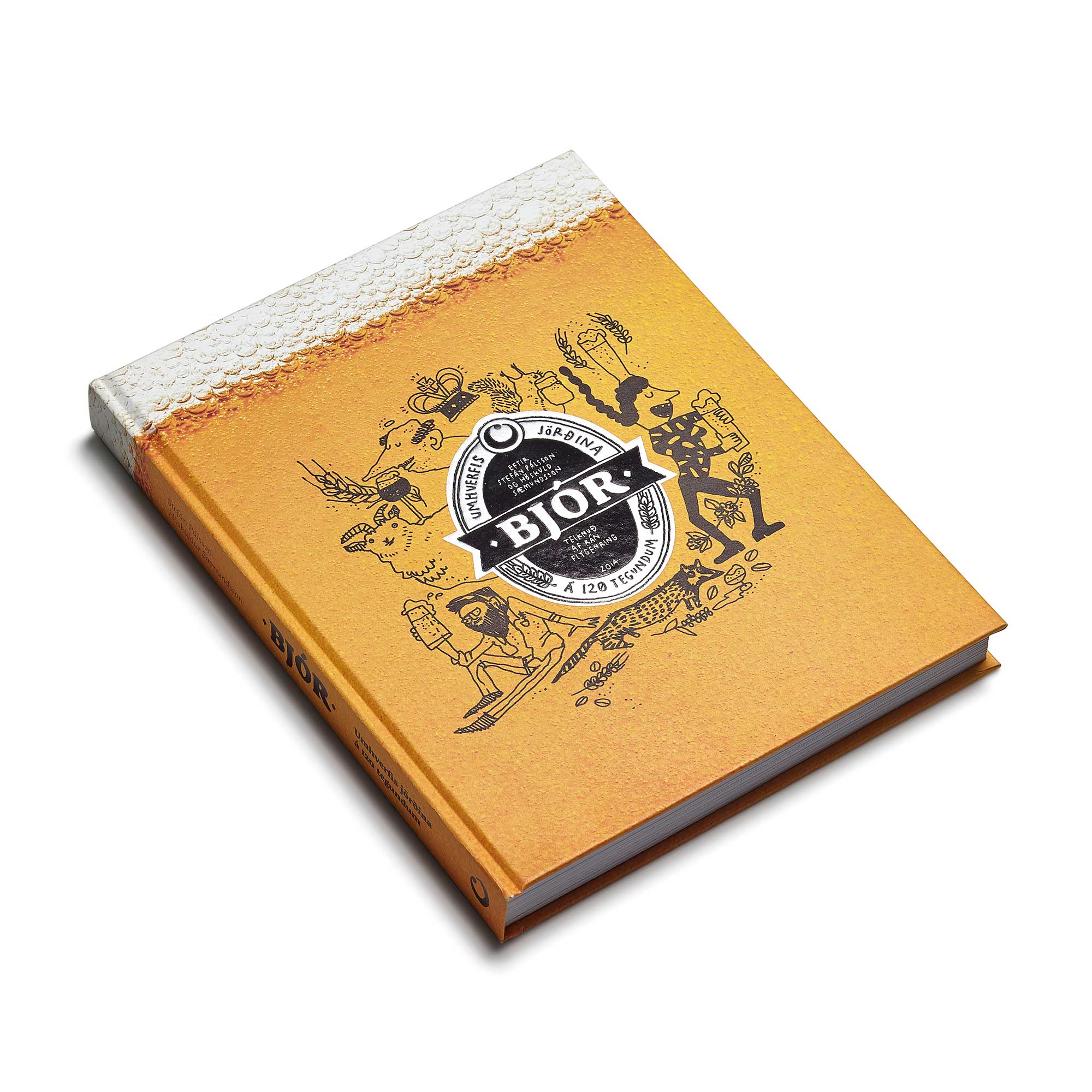 Bjór
Beer – Around the World in 120 Mugs.
After tea and water, beer is the most popular drink in the world and almost every country has its own beer history. The book is written by Stefán Pálsson and Höskuldur Sæmundsson, who have for years used their popular Beer School as a platform to inform Icelanders about the pleasures of beer. Here they share their knowledge in a highly informative yet hilariously funny "World History" of beer.
Illustrations by Rán Flygenring.
Puplished by Crymogea.
Kjarni
A logo for an online shopping mall. A webpage that serves as a listing of most, if not all, of icelandic online stores.
Find a flag
Based on the illustrated suggestion of my book The Flag / Fáninn, as a part of DesignMarch 2014. All the suggestions were made into flags for the first time, and raised on flag-poles.
A total of 28 flags could be found all around downtown Reykjavík.
Raise a flag (Skjótum upp fána)
Project in collaboration with:
Atli Þór Árnason & Unnie Arendrup

100 years after the Flag Committee (which chose the design of the Icelandic flag) asked to public for their suggestions for a new Icelandic flag, we decided to do it again.
Instead of asking for written submissions by advert in the local newspapers, we created a website offering anyone and everyone to make their design of a "new Icelandic flag", in writing. We then took each suggestion and illustrated them to be shown as an exhibition at Gallery Þoka, as a part of Design March 2014.
A total of 121 flags made it to the exhibition, submitted from designers, kids, office workers alike.
The Flag / Fáninn
The project that started the whole flag-series that is still ongoing. A book illustrating for the first time the proposed designs for the Icelandic flag, submitted by the public in 1914.
The book, which is in english and icelandic, was first self-published in 2008. After being sold out for a few years, it was re-published as a 2nd revised edition in 2014, this time by Crymogea.
It shows all the submissions by the public, as well as a selection of the old Icelandic flags and seals, with an introduction by Prof. Guðmundur Oddur Magnússon and a short history by Haukur Harðarson.
Eagle stamp
A stamp to commemorate 100 years of conservation of the White Tailed Eagle (Haförninn) in Iceland.

Published by the Icelandic Post.
Photo by Gunnar Þór Hallgrímsson.
Lófabók
A logo to be used for books also available as e-books. Based on the name Lófabók, which translates to Palm Book.
The National Flag of Iceland
Published in 2011 by Crymogea, this book is a visual representation of the laws and regulations concerning the protocol for the Icelandic national flag.

With a prologue by former Icelandic president Vigdís Finnbogadóttir, this Icelandic only book is made for the Icelander that wants to know how to use the national flag in a respective and correct manner.

The book is available as a trade edition and also a special leather bound and numbered copy (only 100 made). Both versions are available online here.
Djúpið / The Deep
Poster for Baltasar Kormákurs 2012 movie The Deep.

Based on actual events, a fisherman tries to survive in the freezing ocean after his boat capsizes off the south coast of Iceland.
 
Nordisk Panorama
Branding for the Nordisk Panorama, held in Iceland 2009.

Illustration by Katrín Ólína.
Bára Dan
A label for local crafts-woman, used for her various projects.
Family illustration
I was once asked to make an illustration of me and my family.

This is me, my then pregnant wife and our cat.
Alþingi
Graphics made for table-tops in Iceland's parliament, Alþingi. Each table shows a different year from the Icelandic history, and the members of parliament seated that year.

Photo by Rafael Pinho.
Designed while at Atelier Atli Hilmarsson.
Bullseye Calendar
A weekly-calendar made with authentic used air-riffle targets.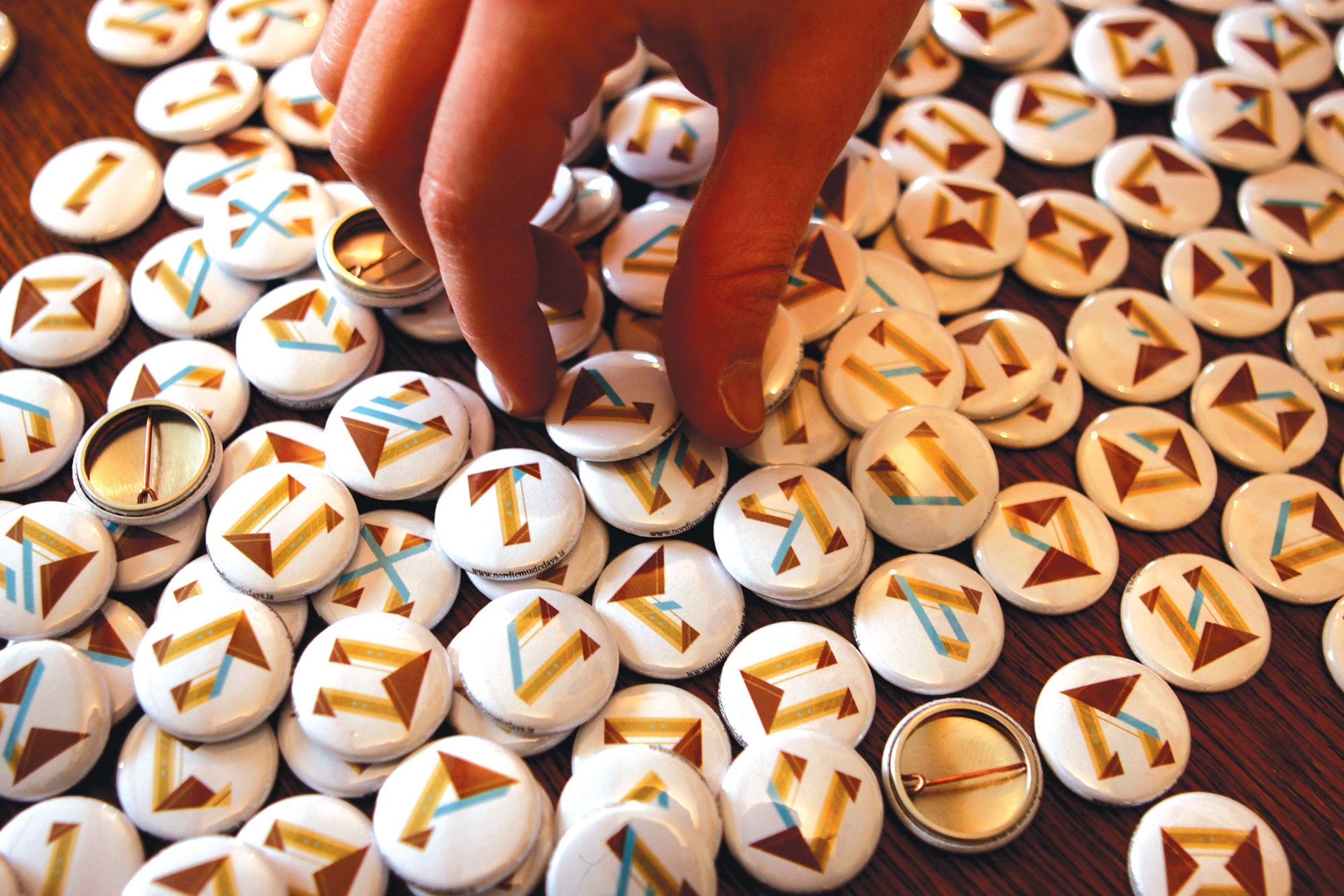 Nordic Music Days
In collaboration with:
Siggi Orri Þórhannesson & Sól Hrafnsdóttir

A total brand for the Nordic Music Days in Iceland. First designed in 2006 and then updated for 2011.

The brand included a typeface (Rich Hard), poster, booklet and more.
Hans Ulrich Obrist: Interviews
Interviews by Hans Ulrich Obrist, made at Eidar Sessions 2004.
Projects